Our educational case managers (teachers) hold special education licenses with LBS1 approval. They deliver the curriculum and instruction based on Illinois State Standards and Descriptors. They will also integrate curriculum frameworks from the student's previous school.
We provide a safe, nurturing therapeutic environment for children aged 5-18 facing various challenges, such as emotional disturbances, learning disabilities, autism, and other health impairments. We foster academic, emotional and social growth, to help each child reach their potential.
We offer a project-based curriculum to keep students engaged with learning. This approach promotes social skill development and relationship building with classmates.
Each of our therapists (clinical case manager) is a licensed clinical social worker (LCSW). A therapist will schedule a meeting with each student once per week. Also, they will be available to meet with students as often needed. For instance, when a student is feeling overwhelmed or needs a break from the classroom. Therapists observe classes and check-in with teaching staff. Also, they engage students during planned unstructured time.
Holly Schaefer
Founder/Executive Director
As Founder and Executive Director of Safe Haven School, Holly Schaefer draws upon deep educational and practical experience in the field of special education as well as a strong personal commitment to children with special needs. This commitment and experience have combined to fill the need that has been expressed by special education professionals, parents, and the students themselves. Over the course of her career, Holly has had hands-on experience across all grade levels in both public and private therapeutic day schools. She began her career as a classroom assistant, became a teacher, a department head, a supervisor, curriculum director, and educational director. Holly received her Bachelors Degree in special education and her Masters Degree in Educational Leadership from Northeastern Illinois University.
Sherry Smith
Director of Clinical Services
Sherry became our Director of Clinical Services for both Safe Haven School campuses in August, 2014. She graduated from the University of Illinois, Champaign-Urbana with her Masters degree in Social Work. Prior to joining Safe Haven School, she was the Social Work Coordinator at Stevenson High School for eighteen years. She retired from Stevenson High School after working with thousands of students. Before Stevenson, Sherry worked for Kenneth Young Mental Health as a SASS (Screening, Assessment, and Support Services) Coordinator and for the Illinois State Board of Education for two years developing services for at-risk students. Sherry was also a school social worker at Lincoln Junior High School for thirteen years.
Sheila Deal
Director of Educational Services
Sheila Deal has been in the education field since 1986. She began her career working with students with Emotional Disabilities in a Public Junior High School. Three years later she moved to the private sector and worked with students in a residential/day treatment setting. Obtaining a Master's in education in 1998 and an Administrative Endorsement in 2002, she moved into an administrative role. She took on the challenge of Principal for a private therapeutic day school in 2006 working with students with Emotional Disabilities, Multiple disabilities, Autism and Developmental delays.  She joined Safe Haven School in June of 2015 as the Director of Educational Services for both Safe Haven School campuses.
Sue Holzkamp
Administrative Assistant
Sue Holzkamp began working in therapeutic day school settings in 1998, working directly with students as a paraprofessional and as the assistant to the Behavior Interventionist at Camelot Day School. Sue relished observing the students grow and flourish, how they worked toward reaching their goals, and realizing their potential. Sue became the Administrative Assistant at Safe Haven School in July 2015 where she has enjoyed being part of the extraordinary team of professionals.
Personally, Sue enjoys spending time with her family, having raised three children. Her grandchildren are her pride and joy. She loves traveling to warm, sunny places, especially in the heart of winter, and is an avid Chicago sports fan, rooting for the Chicago Cubs, Bears, Bulls and Blackhawks.
Laura Stahl
Educational Case Manager
Mrs. Stahl is an enthusiastic and experienced teacher of 18 years who enjoys being a part of the Safe Haven School family. She has a keen interest in students with disabilities and is dedicated to reaching students of all ability levels and backgrounds, as well as creating a hands-on, engaging environment in her classroom.  Mrs. Stahl holds a B.S. in elementary education, M.S. in Reading, and her LBS1 endorsement.  She has taught multiple grade levels, including lower and intermediate elementary, and holds a reading specialist license. Laura is passionate about language and helping students develop a love of literature.  Most recently, Laura was an Intermediate Lead Teacher in a private school for children with dyslexia and other language-based learning disabilities in Roswell, Georgia.
Caroline Tye
Art Therapist
Caroline Tye is excited to join the Safe Haven School team. Prior to Safe Haven School, Caroline was a camp director, pre-school teacher, after school program teacher and a basketball coach. Throughout these experiences, one thing never changed, her enthusiasm and passion for helping students achieve their goals. Mrs. Tye brings her love of the arts to school each day to provide students another venue to gain positive experience and express themselves while at Safe Haven School. Mrs. Tye holds a B.S. in art education and M.S. in art therapy.
Jane Conley
Educational Case Manager
Jane is thrilled to be teaching in the middle school at Safe Haven School Lake Bluff.  Her educational background is in science, and she loves sparking her students' curiosity and seeing where it leads them.  She holds a bachelor's degree in genetics from the University of Kansas and a master's degree in genetics from the University of Chicago. She also holds master's degrees in special education and reading and literacy education. Jane has been teaching students with special needs for six years in therapeutic and general education settings. She loves to watch her students grow and thrive at Safe Haven School, and looks forward to their future success.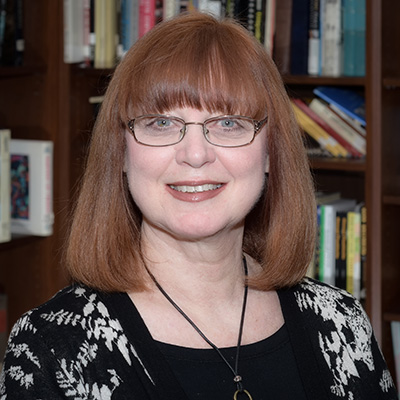 Joanne Ramseyer
Art Therapist
Joanne Ramseyer, MA, ATR-BC, LCPC is excited to offer the students at Safe Haven School her passionate belief in the power of creativity to promote resilience and growth and to join such a highly dedicated, caring and professional team. Joanne is a Board Certified, Registered Art Therapist and Licensed Clinical Professional Counselor who has practiced, taught, and contributed extensively to the growth of art therapy services in the Chicago area for over 25 years. She is the former Director of an extensive art therapy program she created for all ages at Community Counseling Centers of Chicago, and is currently on the adjunct faculty of the graduate art therapy program at The School of the Art Institute of Chicago where she has taught for 20 years. Joanne is highly skilled in working with children and adolescents who present with trauma and other serious mental health and behavioral issues through her lively, enthusiastic, and nurturing approach.
Cynthia Eudy
Clinical Case Manager
Cynthia Eudy earned her undergraduate degree from Columbia College in Communication Arts and her Master's Degree from Loyola University in Social Work. She enjoys music, exercising, and spending time with her wonderful family. Cynthia loves working with adolescents and feels privileged to be able to serve the students of Safe Haven School.
Sarah Matchen
Clinical Case Manager
Sarah Matchen graduated with her Master's in Social Work in 2007 and has focused on working with children, adolescents and families throughout her career.  Outside of school, Ms. Matchen serves on the Board of Directors for the Tourette Syndrome Camping Organization and loves kayaking and crafting.
Jennifer Dimitrov
Educational Case Manager
Mrs. Dimitrov brings six years of experience to her position of educational case manager. Jennifer most recently worked with high school students at Metro Prep and Maryville Academy therapeutic day schools located in the northwest suburbs of Chicago. Mrs. Dimitrov holds a B.S. degree in Social Sciences Secondary Education with an LBSI endorsement, along with an M.S. in Curriculum and Instruction with an ESL endorsement. The program philosophy of Safe Haven School is what drew Mrs. Dimitrov to this special and unique therapeutic day school.
Brittany Gadau
Educational Case Manager
Brittany Gadau is excited and honored to be a part of Safe Haven School. She has a B.S. in Special Education from Illinois State University, and is completing her M.S. in Curriculum and Instruction at Saint Xavier University. She comes with two years of experience working in the Glencoe Public. Brittany believes in being an advocate for her students and strives to encourage them to reach their full potential both inside and outside of the classroom.
Laura Gross
Educational Case Manager/Science Teacher
Laura Gross is a passionate educator and science geek. She has been teaching for 16 years and is always attending science trainings, activities, lectures and conventions because she enjoys it immensely and loves to bring back first-hand information and activities to her students. She is part of the Argonne National Laboratory teachers' network and has created and published curriculum in conjunction with scientists and workshops at Argonne. As part of the Illinois Science Teachers Association Laura is always in active communication with leaders in science education as they continue to update the best practices for implementing the NGSS- Next Generation Science Standards. In addition to her Safe Haven students and science, Laura also loves roller derby and baby sloths.
Carly Bryer
Educational Case Manager
Carly Bryer earned a B.S. in Human Development & Family Studies from Indiana University and an M.A. in Curriculum and Instruction from Loyola University Chicago. Carly then went on to National Louis University for her LBS1 Endorsement. Between 2007-2013, Carly taught a self-contained special education classroom at Camelot School in Mt. Prospect. She is thrilled to be a part of this wonderful community of students, teachers & staff. Carly's interests include dance, reading, cooking, and raising her two little boys!
Duke Novak
Clinical Case Manager
Having worked to support students and their families for over twenty years, Duke is very happy to be at Safe Haven School to continue doing what he loves. He appreciates the opportunity to work with these students and families. Duke began his career as an actor and teacher on the west coast, but is happy to be back in Illinois as a School Social Worker. He obtained a Master's degree from Aurora University where he teaches courses for the School of Social Work. Areas of interest include: healing childhood trauma, mindfulness practices, and parenting support and education.
Anna Netzel
Clinical Case Manager
Anna Netzel graduated from Dominican University with her Master's in Social Work in 2014. Since graduating, her focus has been working with children in schools. Outside of school Anna enjoys traveling, taking walks, and reading.
Hallie Zimbler
Paraprofessioinal
Hallie is a paraprofessional at Safe Haven School Lake Bluff. She utilizes her academic strengths of in English/Language Arts and Theatre in her work with the students. Her passion for Special Education began at a young age, and has been working with students with special needs ever since. She received her Bachelor's Degree from Arizona State University in Elementary and Special Education, and is currently training to become an ABA (Applied Behavior Analyst) therapist, which also includes working with children with special needs, specifically Autism and the Autism spectrum.
Aaron Silverberg
Paraprofessional
Aaron Silverberg graduated from Illinois State University in 2011 and is currently pursuing a master's degree in secondary education. He serves as physical education teacher and paraprofessional at the Lake Bluff campus.
Jenny Rhoades
Educational Case Manager/High School Division Head
Jenny Rhoades joined Safe Haven School in January 2013. She believes that behavior and education initiatives are essential components in producing lasting changes in young people's lives. Jenny holds a double major in psychology and fitness from Cornell College, an MS Ed. from Northern Illinois University, and furthered her education at National Louis University by obtaining her LBS I certification.  Through county and social service organizations, Jenny has a long history of working with students in various school and community settings. These experiences lead her to become a teacher at alternative high schools since 2004 where she positively impacted students. Jenny is committed to strengthening students' knowledge, attitudes, and behavior skills.  She takes pride in designing curricula and lessons that address the students' diverse needs, abilities, and interests. Education is Jenny's specialty, prevention is her passion, and she is thoroughly enjoying the rewarding experience of working at Safe Haven School.